Coral Springs Flooring Store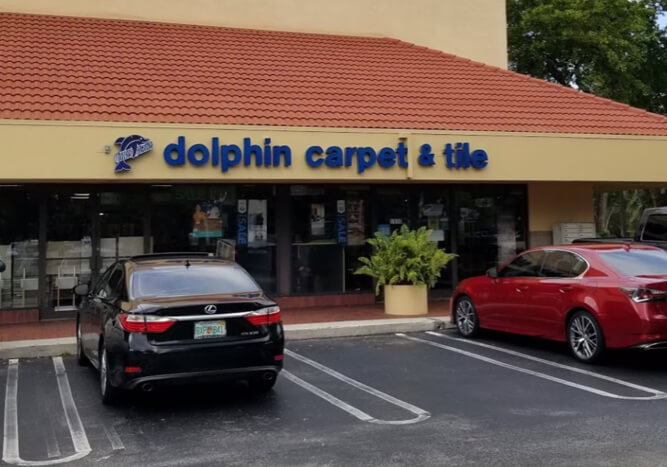 Waterproof Floors, Carpet, Tile & More from Dolphin Carpet
Visit Dolphin Carpet & Tile at our Coral Springs showroom location and find a tremendous offering of not only the best in carpeting and tile floor coverings, but name brand products in every major flooring category. We carry fine hardwood, stone, and laminate solutions including the waterproof Mohawk Revwood+, as well as luxury vinyl flooring from top brands like the waterproof COREtec Plus.
All of the products we offer:
Our Coral Springs location is located 3 lights North of Atlantic Boulevard on the left side of University Drive. Turn left onto Shadow Wood Blvd and we'll be on your left! You'll find plenty of shaded, free parking out front. If you have trouble finding us, we're just a quick phone call away to help you navigate.
If you're living West of Pompano Beach near the Everglades, you'll find this showroom to be one of the most convenient of our ten stores located all throughout the greater Miami metro area. While you're browsing our huge selection of flooring options, you can request a free in-home estimate or consult with one of our design professionals during your visit. We can't wait to meet you!
Carpet for Every Style & Taste
Carpeting comes in thousands and thousands of colors, styles, pile heights, and materials, so you'll have so many choices when you decide to put carpeting in your home! We can help you find the perfect option for many rooms in your home.
Carpet offers a timeless appeal with warmth and comfort. It muffles noises and provides a comfortable setting for playtime. For busy households with kids and pets, plush carpeting is a beautiful option! And with its variety, carpeting can work with any design scheme.
Where to Install Carpeting
Carpet boasts a winning combination of enhanced stain resistance, durability, and easy maintenance, so it's an excellent choice for bedrooms, nurseries, playrooms, living rooms, and even basements. It handles foot traffic well, so carpeting is suitable for almost any room at home. We offer professional carpeting installation, so wherever you plan to use carpeting, you know it'll look its best right from the start!
Using Carpet to Decorate
Carpeting can seamlessly support your home's décor with comfortable style and texture. There are so many different types of carpeting to pick from; you can be confident you'll find one that works perfectly in your home!
Choose from thousands of colors, textures, pile heights, and different materials. Whether you're looking for a neutral Berber style or a plush blue, you'll be able to find the carpeting for you. Comfortable and warm carpeting offers endless and unique design possibilities!
Why You Should Consider Hardwood Flooring
Hardwood flooring is an excellent floor covering for every type of home! It's long-lasting and durable, plus it even comes in waterproof and water-resistant options. And with both solid wood and engineered hardwood floors on the market, it can fit into different new floor budgets.
If you're not looking to spend a lot of time on your floor's upkeep, you'll be happy to know that cleaning your hardwood floor mainly consists of regular sweeping or vacuuming. And if it does need some maintenance over the years, solid hardwood can be sanded and refinished several times. Engineered hardwood can also usually be sanded and refinished one time.
Visit our showroom to find the right hardwood floor for your style and budget!
Hardwood Floors in Your Home
Classic and elegant hardwood floors add a statement to living rooms, dining rooms, and bedrooms alike. From an intricate herringbone pattern to rustic wide planks, there's a hardwood look that will be perfect for your home, no matter your current décor. An area rug can add a pop of color and additional protection as well.
With our professional hardwood flooring installation, you can enjoy your new floors without the hassle. We also have many flooring brands to choose from, including Mohawk, Cali Bamboo, Dolphin, and others.
Hardwood Flooring Styles & Looks
Hardwood floors come in many different wood species and colors, including oak, maple, hickory, birch and others —from pale to dark wood and everything in between. There are also different textures and knotty designs that practically make each plank a unique work of art!
Solid wood is just that, a solid piece of wood, while engineered hardwood is a little more complicated. That style of hardwood flooring is made from a thin layer of hardwood attached to high-quality plywood. It offers the same type of look at a bit of a lower price tag. And while solid hardwood can be sanded and refinished multiple times, engineered hardwood can typically only be sanded and refinished once.
Why Choose Laminate Flooring 
There are so many reasons why you should choose durable, beautiful, and easy-care laminate! Laminate flooring is a very budget-friendly option for homes with kids, pets, and lots of activities, all while capturing an authentic wood or stone look. Because it's made up of many layers—including a tough wear layer, it can handle busy households and stay in looking its best.
Laminate flooring boasts a realistic look due to the high-resolution hardwood, tile, or stone image layer right beneath the wear layer. Color options include greys, browns, and more, all with water-resistant and easy cleaning qualities you could wish for. Today's laminate flooring offers true style for all kinds of decors and interiors. Plus, its durability means it also resists staining and fading.
The Best Rooms for Laminate Flooring
The kitchen, living room, bedroom—these are all excellent rooms for laminate flooring. Because it's water-, mold-, and mildew-resistant, laminate can be used in a variety of spaces throughout your home where traditional hardwood floors might not work well. Laundry rooms, mudrooms, and more are possible options when you're considering laminate flooring.
And because laminate has so many looks, you'll definitely be able to find one that speaks to your unique tastes. We have many laminate flooring options from brands like Mannington, Mohawk, Dolphin and more.
Laminate Flooring Styles for Your Home
Today's laminate flooring offers true style for all kinds of decors and interiors, from contemporary to traditional. Pick a brushed wood look for an elegant living room or a sleek stone look for an updated kitchen. Fashionable and high-tech laminate can match any look.
We offer professional laminate installation, but it's possible to DIY laminate if you'd prefer because the install process is fairly simple. No matter the style or room, laminate flooring is a chic and less expensive choice for any space in your home.
What is luxury vinyl tile flooring?
At our Coral Springs location, you'll have the chance to work with flooring experts who can guide you through the process of choosing new floors and deciding if luxury vinyl tile or plank is right for your home. Luxury vinyl is a highly durable & versatile material that works well in any room.
Made entirely from a synthetic material called polyvinyl chloride resins (PVC), vinyl is created by fusing together several layers into a durable, resilient plank or tile that resists common wear and tear as well as moisture. Some luxury vinyl products are fully waterproof. The typical luxury vinyl product consists of the following layers:
A backing layer that gives the plank or tile its waterproof capabilities

A solid core layer that lends the plank or tile strength & resilience

A photorealistic image layer, typically depicting a wood look or tile look

A surface wear layer that resists scratches, stains, fading, dents, moisture & more
What is the best brand of luxury vinyl flooring?
When you browse our online catalog or visit our showroom, you'll find luxury vinyl from a range of reputable brand names. Each brand we carry creates quality products at various price points to serve different needs for different households.
Look for luxury vinyl from COREtec, Dolphin, Mohawk, Pergo and more, and compare features such as waterproof capability as well as the various finish options available.
Where & How to Use Luxury Vinyl
Luxury vinyl flooring can be used effectively in nearly any room in your home. Use vinyl plank or tile to bring a genuine wood look or ceramic tile look to any space – even those where natural wood, stone or tile installation would not be possible.
Luxury vinyl is especially popular in the kitchen, bathroom, laundry room, basement, or other high-traffic areas where moisture occurs. Because vinyl is moisture-resistant or even waterproof, you won't have to worry about damage in the way you might for solid hardwood or natural stone.
If you're trying to incorporate luxury vinyl into a specific color scheme, you'll find that these products offer a lot of versatility when it comes to color. You'll find vinyl in brown, grey, beige and just about every popular colorway you can think of. Talk to a representative from Dolphin Carpet today to learn more.
What are area rugs used for?
Area rugs are loved for a variety of reasons. Not only are they an easy way to express your individual personality, they're also a functional piece of décor that provides comfort, warmth & safety to a space. Area rugs are like artwork for your floor.
The right-sized area rug can also be used to create a frame in which to place furniture, defining otherwise open spaces into contained, intimate settings. Create a seating area using rugs and furniture, or frame your dining room table.
Place a small rug or mat at an entryway or in front of a bathroom or kitchen sink to protect high-traffic areas of your floor and provide a comfortable space upon which to walk and stand. Rugs are useful in both indoor and outdoor spaces, no matter your style.
The Best Rooms for Area Rugs
Your mind may jump to the living room, where an area rug can be used to create a comfortable surface that matches your furniture and ties the room together. The dining room is another space where rugs are commonly used. Place your table at the rug's center and ensure that the rug is large enough to fit all of your dining room chairs.
In the bathroom, you can use rugs to add a warm, cushioned surface outside of your shower or in front of your sink or toilet. This will make the experience of walking on cold tile floors much more bearable, as well as give you some comfort while getting ready for work or for bed.
Rugs can add comfort anywhere in the home, even in carpeted bedrooms. You can also dampen the noise of footsteps in long hallways using area rug runners.
Area Rug Styles for Your Home
When you shop with us, you'll have access to a huge array of area rug styles. Whether you want an elegant plush shag rug or are leaning into a rustic farmhouse aesthetic, you'll find rug styles to match these tastes and every décor style in between!
Choose from rugs in every color, from white and grey neutrals to blue and green natural hues or even vibrant multicolor rugs. We have rugs in all sizes, including 8x10, 5x7, and 4x6, for both indoor and outdoor use. Visit us today to explore our collection and talk to our experts about your design goals.
Check out our other 9 locations in the Miami area: