Best Flooring Options for Dogs & Cats
If you're a pet-owner, you're probably already all too familiar with the wear and tear that our furry friends can cause to your home over time. Scratches, stains, odors and dirt are all common pet-caused hassles that can be especially damaging to floors.
That's why many pet-owners, whether they're building or remodeling a home, are cautious about what type of flooring they choose to install in the areas in which their pets live with them.
Before you begin your search, there are 4 common concerns that pet owners should consider when searching for flooring for their next project.
Scratch resistance: How well does the floor resist scratches and other marks, commonly caused by dogs' nails as they walk around?
Damage resistance: Does the floor have a natural resistance to damage from things like pet urine and other accidents?
Traction & comfort: Does the surface of the floor allow pets to move, walk, run, sit and lay safely and comfortably?
Durability & ease of cleaning: How easy is it to regularly clean the floor and return it to its original look?
So, with all of that in mind, which types of flooring fit the bill? You may be pleasantly surprised to learn that you have a lot of options when it comes to pet-friendly flooring.
Modern innovations have led to pet-focused technologies and warranties across the entire spectrum of flooring categories. We'll dive into each one and give you our top product recommendations.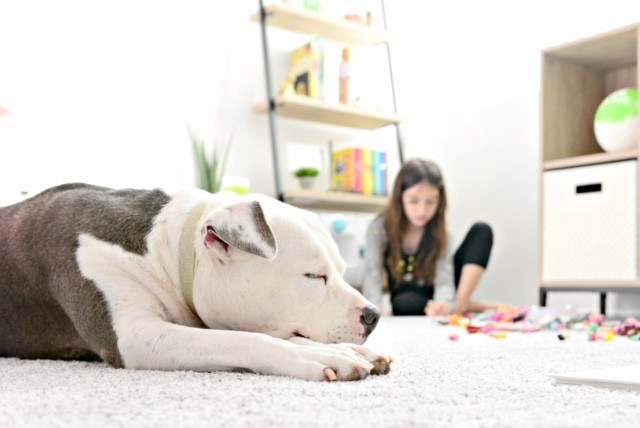 Pet-friendly carpet
Many people prefer soft, warm carpet in their bedrooms, but it's probably not your first thought when you're trying to pick flooring for a home with pets.
Carpet is a soft place to lay, but it can be tough to clean and is prone to easy wear and tear. If you do opt for carpet, consider keeping it in low-traffic areas (such as bedrooms) where your pets don't spend much time.
To help prevent staining in the event of inevitable accidents, we recommend these two very solid pet-friendly carpeting options:
Mohawk SmartStrand Forever Clean: This carpet's innovative fibers feature built-in protection from spills and stains, with 0% absorption. On top of that, Mohawk's All Pet Protection & Warranty that covers all types of pets and accidents, all the time.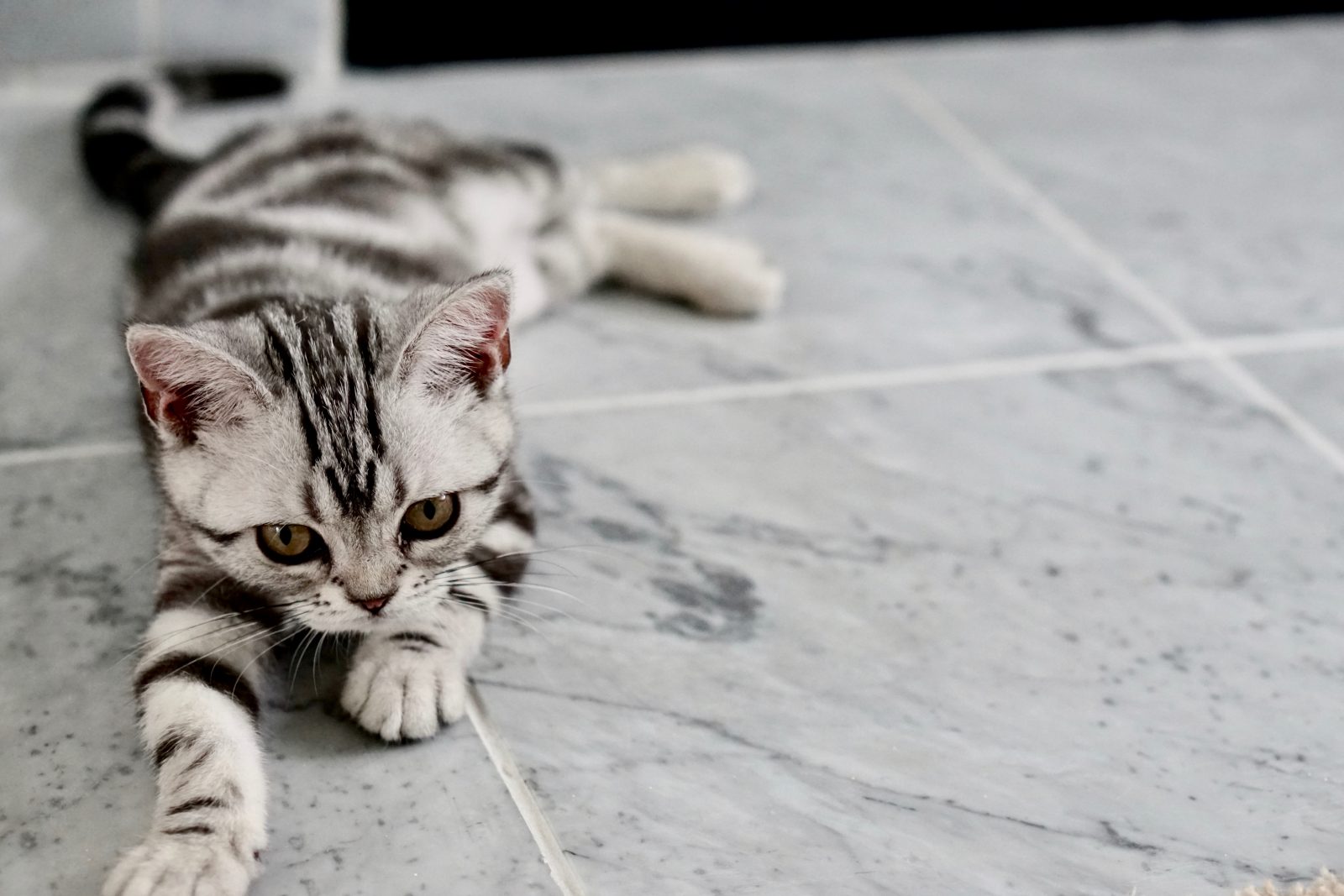 Pet-friendly tile
Tile is well-suited to homes with pets in the family. Its hard surface and dense makeup makes tile extremely durable and resistant to scratches from toenails.
Note that this isn't true for all types of tile – specifically, you should avoid installing soft, porous stones such as marble. These are damaged far more easily than other types of stone or glazed ceramic tile.
Tile is also very easy to clean, as soil and pet hair sits on the surface. A routine sweeping, dusting or gentle vacuuming will pick up most solid debris. Wet mop as soon as spills or accidents occur, and you'll be able to keep your tile looking and smelling as fresh and clean as the day you bought it.
The only significant drawback to having tile in a home with pets is that the surface is relatively cold and hard in comparison to most other types of flooring. You can solve this by laying down area rugs throughout your space, or a soft dog or cat bed or cushion.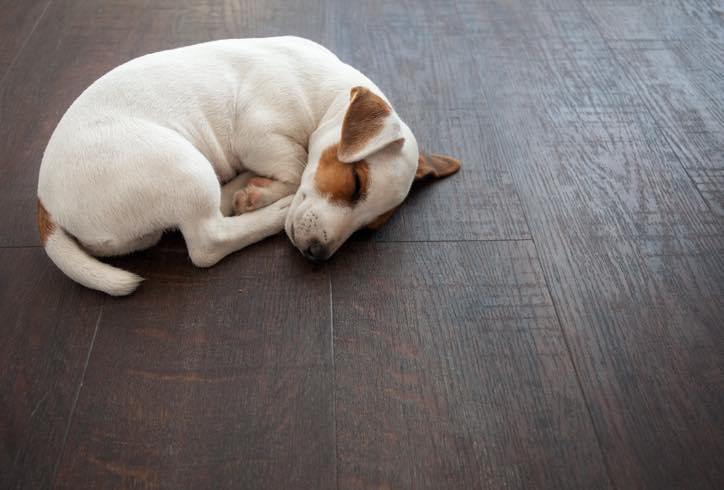 Pet-friendly vinyl flooring
Vinyl is arguably the ideal choice for pet-friendly flooring. The list of benefits is long. For example, vinyl flooring:
Is extremely affordable compared to other flooring options
Can be installed anywhere in the home, on, above or below grade
Offers great traction with realistic wood textures
Comes in a variety of beautiful, natural designs that mimic wood and tile
Is easy to clean and resistant to scratches and stains
Does not trap or release allergens into the air
Is comfortable and quiet underfoot
The main potential drawback to vinyl flooring is that it can be susceptible to water or other liquid damage. However, modern innovation has led to a number of waterproof vinyl options that are well-suited to homes with pets. Our top recommendations are:
Mohawk SolidTech: This brand was specifically designed with busy family life in mind, and to withstand kids and pets running around. It's 100% waterproof and easy to clean thanks to an engineered finish that also makes it resistant to stains, scuffs and dents. Install SolidTech in bathrooms or basements where real wood cannot hold up.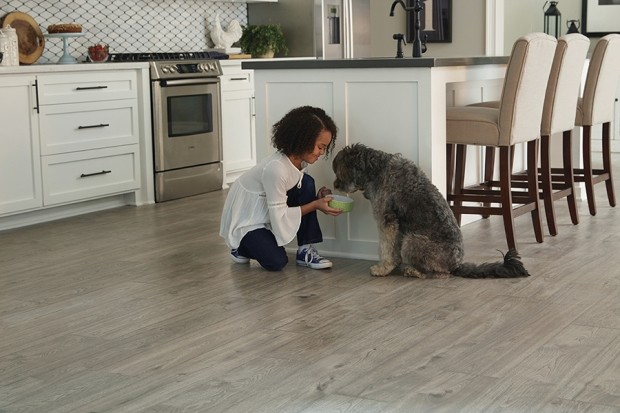 Pet-friendly laminate flooring
Laminate is similar to vinyl in many ways. It looks like hardwood, is easy to clean, and it resists water and scratches well.
One drawback to laminate are that it often has a slippery surface that isn't great for soft paws. You can avoid this by choosing a laminate with a scraped or textured surface. These floors are beautiful and are especially good for active or older dogs.
One product that fits the bill is the new Mohawk RevWood+. It's made with natural wood, but is also completely waterproof. Affordable, durable, resistant to all types of damage and wear, and easily installed with click & lock joints, RevWood+ is a terrific option for pet owners who want the look and feel of real hardwood floors without the risk.
Now until October 18th, 2018,save up to $1,000 on Flooring for All Pets at Dolphin Carpet & Tile. Special financing is available!