How is Hardwood Flooring Installed?
Hardwood flooring is a naturally gorgeous, classic flooring choice that adds tremendous warmth, character, and value to your home. Available in both solid wood and engineered options, each respective type uses a specific installation method and require different levels of prep!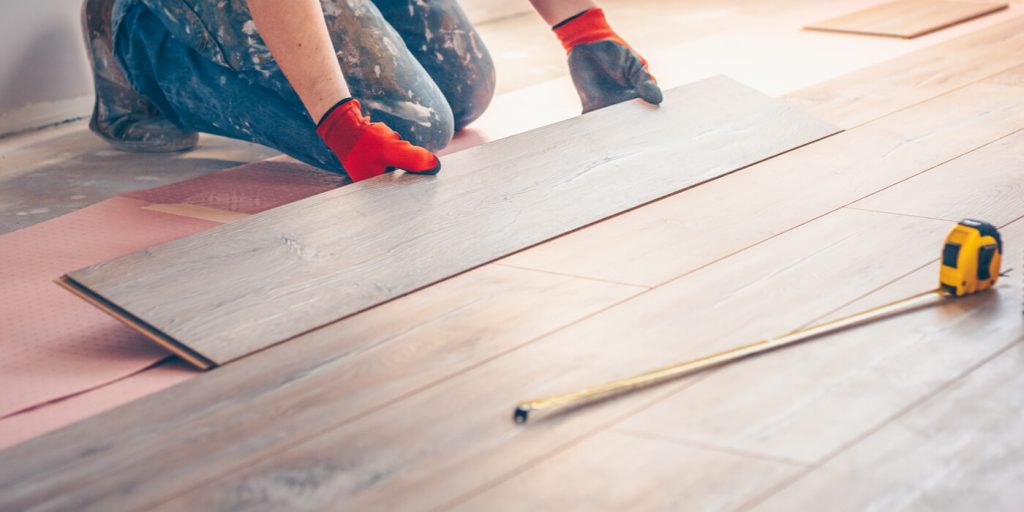 Making a Hardwood Flooring 
Decision
First, it's time to decide which type of hardwood flooring and installation method you'll use based on factors like your budget, the type of subflooring, the kind of wood flooring you want, and your lifestyle. For example, solid hardwood flooring is nailed down and requires a wooden subfloor. If you don't have a wooden subfloor, you'll have to remove the current flooring to get to it or create a new subfloor using plywood, increasing the overall cost of the project.  
On the other hand, engineered hardwood flooring uses a floating click–lock design and a glue-down and staple-down installation method. This installation technique is used on wood, cement, tile subflooring, or floors with radiant heat. Once you know what type of flooring you're going to use, it's time to get the room ready for the new flooring.
Prepping 
for Hardwood Installation
When it comes to installing new hardwood floors, surprises are generally not your friends! Preparation is the best way to cut down on those unexpected moments. Here's a checklist of necessary steps when preparing for a hardwood floor installation: 
Remove furniture and other objects (

things like 

plants, 

artwork

,

 or musical instruments)

 covering areas where

 the

 installation will 

occur

. And 

don't forget the closets! 

 

Your 

wood 

flooring product needs to rest in the room for at least four to five days before installation to get used to the temperature and humidity.

 

Pull up baseboards and moldings. 

 

The 

previous

 floor covering needs to be pulled up 

at least

 a day 

before

 installation to allow for clean

–

up and any repairs to the subflooring. 

If building a new subfloor is part of your project, 

make sure to 

factor that time into the prep for installation. 

 

Talk to your installer about whether they need to remove doors (closets, bathrooms, bedrooms) for clearance. 

If the door doesn't have enough 

space

 to swing freely, you might need to hire a carpenter to shave the door down. 

This conversation should happen 

before

 the flooring goes in.

 
Hardwood 
Installation Day 
&
Beyond
What should you expect when having hardwood flooring installed? It will be indeed noisy, but here are a few other tips to help you through hardwood installation day: 
Don't disappear 

when your installers arrive

. You need to be available in case questions arise.

 Since the installers

 are using equipment that can cause injuries

, you will need to k

eep p

ets or children 

safely 

away from the installation area. 

 

D

ust 

and

 odors

 created

 from 

the flooring materials and installation

 are likely,

 

so 

adequate

 ventilation

 from open windows and strategically placed fans 

for 

up to three days

 is essential.

 

 

Typically, the installer takes away the 

project's waste materials,

 but 

both parties should decide on that issue b

eforehand. 

 

Take a walk around the

 new

 floor before the installer leaves. If you have questions, ask! They want you to be satisfied with their work. 

 
Are you ready to explore installing new hardwood flooring for your home? Our experts can answer your questions. Give us a call or drop us an email today!