When it comes to interior design, rustic has become a huge trend. Using natural materials as the foundation creates a cozy, beautiful space that everyone enjoys. If you're into the rustic lifestyle, you've come to the right place, because here at Dolphin Carpet & Tile, we have the best options of rustic look floors to start the base of your new and improved, yet "back to the basics," rustic home!
Fumed Wood Flooring
The first flooring option is a fumed wood that offers stronger color and grain. Fumed wood flooring has rich dark tones and enhances the natural grain of the wood, which is a great start to the rustic look you're going for!
Now if the wood is dark and rich in color, make sure not to match the décor with the same shade. Allow the colors to enhance one another, rather than blend together and get lost. You want them to contrast against one another.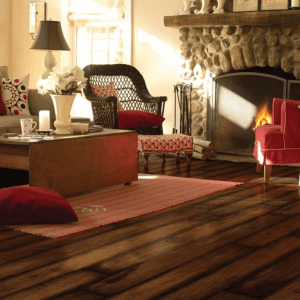 Notice that each wood piece in this room scene is a different shade whether its drastically different, or just slightly, they contrast off of each other well, giving us a great example and beautiful look!
Bleached and blanched woods
If you're not one for glossy brown stains or rich wooden colors, then the softer white-washed look of a bleached floor is probably more your thing. This kind flooring goes through a process called blanching, which gives wood an ashy white-washed look with the natural wood grain still clearly visible underneath.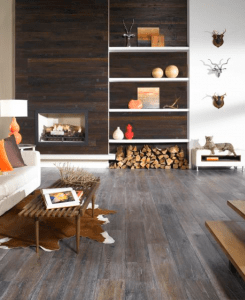 As you can see, it doesn't lose the charm and beauty of natural wood and is a very popular choice when going for the country/farmhouse style.
Distressed Wood and Concrete Tiles
Although these floors look old and aged, they're still elegant and stylish, and that's the point! Just like a lot of old trends are coming back, distressed flooring is one of them. With hand-scraped edges and kerf markings added to imitate historic wood, this flooring type works best for spaces where a beautiful rustic look is desired.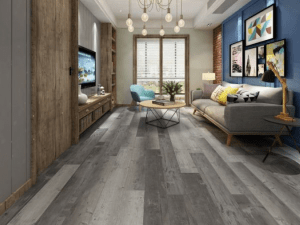 Pictured above is a neutral gray wood we offer. Since gray hardwoods and tiles are also on a trending rise, might as well go for a double trend in the flooring world!
Reclaimed Barn Wood Tiles
Yup, that's right. With technology these days, manufacturers can replicate the exact look of real wood onto tile surfaces, making it pretty much impossible to differentiate the tile from real wood. Barn wood is still a favorite due t is multi-toned and directional, color variation and distressed look. For homeowners looking for a warm rustic look, this is something to consider.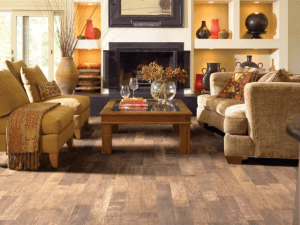 Another advantage of reclaimed wood is that the wood-look can be a cheaper option, giving the same real wood affect at a cheaper price, the perfect alternative rustic décor hack.
With all of these great flooring options, be sure to embrace wood, or wood-look flooring, as the main natural materials in your rustic design. Shop through our wide variety of flooring options we offer, here, and enjoy your new rustic lifestyle!