Taking Care of Your Area Rugs
Area rugs are pretty much essential for any design, but they won't do any good if they start looking grungy. Whether your area rug is located in a room inside your home, or is exposed to the outdoors as part of your outdoor living space, it's always a good idea to keep them clean, especially if you plan on keeping them for a long time.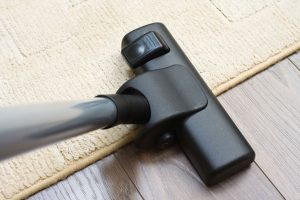 Basic Maintenance
Since rugs can be pretty pricey, it's always good to know how to take care of the rug that you bought. Usually they come with specific recommendations for cleaning and you should always stick to those. Otherwise, here is a basic cleaning option for you to use every week or two, or more if this area rug is in a high-traffic location.
Materials:
A two-speed vacuum with an upholstery attachment
Baking Soda
Instructions:
If the rug is smaller, take it outside and shake out dust particles as much as you can.
In order to prolong the rug's life, check your vacuum settings and consider reducing the speed of airflow so you won't suck it up as you work.
Before you start vacuuming, sprinkle baking soda on the rug to help neutralize any odors.
Vacuum.
Don't forget to vacuum the floor underneath the rug. If you have a mat placed underneath, make sure not to get it sucked up in the vacuum.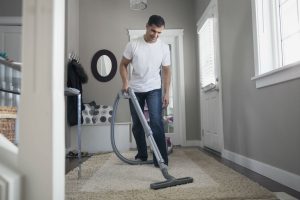 If you have pets that shed, it's also great to brush out their hair using a stiff brush and brushing in the direction of the nap of the rug.
Deep Cleaning
Deep cleaning area rugs should be done once or twice a year. Depending on the type of rug you have, you should check with a professional to make sure this method is safe to use.
Materials:
Vacuum
Rubber gloves (optional)
Rug shampoo
Mid liquid dish soap
Bucket
Sponge
Soft bristled scrub brush
Garden Hose
Squeegee
Instructions:
Remove loose dirt with vacuum. Make sure to get the back to get extra crumbs, dust and dirt.
Test the store bought rug shampoo on the rug for colorfastness.
Work the cleaner into the rug using a sponge or brush, scrubbing the the shampoo or detergent deep into the rug until you see suds. Allow it to sit on the rug and work for several minutes before rinsing.
Hose the soap off the rug thoroughly, making sure the rug is clear of soap suds before finishing.
Use a squeegee to remove excess water. Usually used for cleaning windows, this tool will squeeze excess water out of the rug.
Lay the rug flat to dry. Once the top sides is try, flip over so the bottom can dry.
Run a soft bristle brush over the rug to loosen compacted fibers of the rug that may have compacted during the washing / drying process.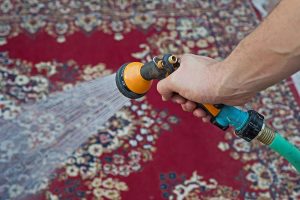 If you are uncomfortable in deep cleaning your own rug, it's always a great idea to hire a professional. Using special equipment to get dirt out of the rug will most likely end up doing a better job than if it was done by hand.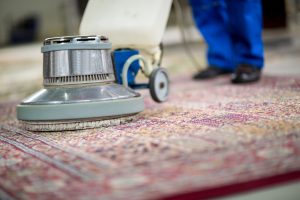 Removing Stains
Stains are always bound to happen eventually, no matter how careful you think you are. Or especially if you have kids, pets, or like to host parties, it's going to happen. If you see the accident occur, act upon it as soon as you can. Remember to blot the stain and remove moisture from spills, do not rub!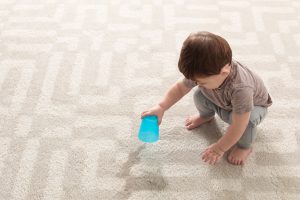 There are rugs that are made to be easier to take care of while still lasting long. Like this Noursion Aloha Indoor/ Outdoor navy area rug from Dolphin Carpet& Tile. Created from 100% polypropylene for the ultimate ease and wear, this area rug is perfect for high traffic areas!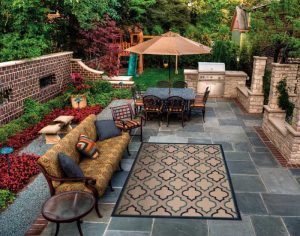 This Country Side indoor / oudoor area rug from Nourison is flat woven, also made of 100% polypropylene, able to withstand all weather and wear with a look at and feel that are utterly fabulous.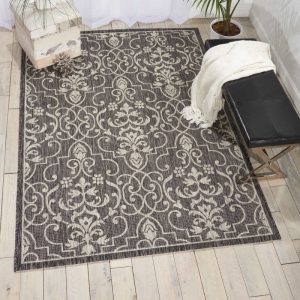 There are many more designs and styles with a plethora of color schemes of area rugs, if you're looking to replace, or want to add to your design, shop here.
Make sure to keep your rugs looking their best with these basic care, deep cleaning and stain removal tips! Let your area rug live as long as possible!