The Best Flooring for Farmhouse Style
When it comes to capturing farmhouse style for modern times, your flooring choices will anchor the entire design scheme with warmth, comfort, and organic beauty. Combined with artistic design touches such as a color palette of muted pastels, gold and shiny metallic accents, antique cutlery and barware, as well as vintage prints and motifs, the details and texture of your farmhouse flooring will enhance an incredible space while serving your home with peak performance.
Mixing traditional elements with chic, fashion-forward tones, here are a few inspired ideas when choosing the best flooring for farmhouse style.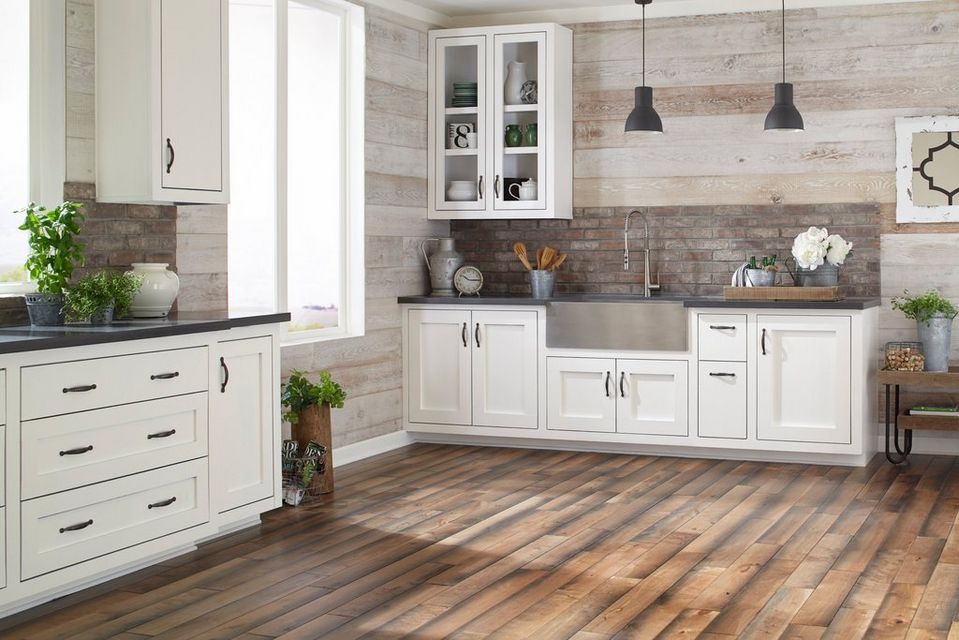 Fabulous Wood Looks
Since farmhouse style emphasizes a strong connection to the great outdoors and natural materials, it makes sense that designers and homeowners alike will immediately gravitate towards the inherent beauty of hardwood species full of character, graining, and markings. Whether you want to use genuine hardwood or install a striking luxury vinyl or laminate wood visual, these rustic trends will deliver the perfect look:
Greige wood visuals combine a savvy blend of beige and grey undertones to produce a modern chic feel with the appeal of traditional wood. It's an ideal neutral tone for unifying newer and older elements together.
Lighter-colored wood tones with brushed texture will use natural light to open the home while pulling out the attractive grain and subtle texture.
Reclaimed wood planks that represent salvaged barn wood with dramatic saw marks and highly distressed texture will definitely bring in the rustic charm! These styles often produce multi-colored finished floors with undeniable countryside allure.
Artistically elevated wood visuals that use updated creativity with painted detail for truly fashion-forward floors will help raise the chic factor in any room!
Stunning Natural Stone & Tile
Gorgeous texture, distinct character, and warm tones in farmhouse flooring can also easily be captured with natural stone, tile, and realistic stone visuals. Slate, terracotta, and patterned tiles with matte finishes are not only durable and water-resistant, but they will deliver rustic looks that are both relaxed and luxurious.  Consider a staggered-brick pattern or cobblestone-style layout with a darker charcoal grout to bring out the farmhouse aesthetic.
Cozy Carpet & Rugs
If you're looking to bring in the coziness to your farmhouse rooms, the right wall-to-wall carpet will add softness and comfort underfoot while supporting your décor. Neutral colors and simple carpet patterns will add depth while keeping the rustic interiors fresh, open, and uncomplicated.
Area rugs present the perfect opportunity to add a warmer textile to your hard surfaces and cut-and-loop constructions will add visual interest without appearing too busy. Make sure to balance all carpet and rug selections with other textiles in the room and err on the side of understated, subtle styles.
Equal parts modern and vintage, farmhouse flooring will help complete a relaxing home that ages gracefully.  When you're ready to explore this design theme, schedule a time for one of our Dolphin Carpet & Tile flooring specialists to visit your home, take a professional measurement, and provide an accurate estimate for material quantity and cost before you buy!