What is Mohawk RevWood? The Benefits & More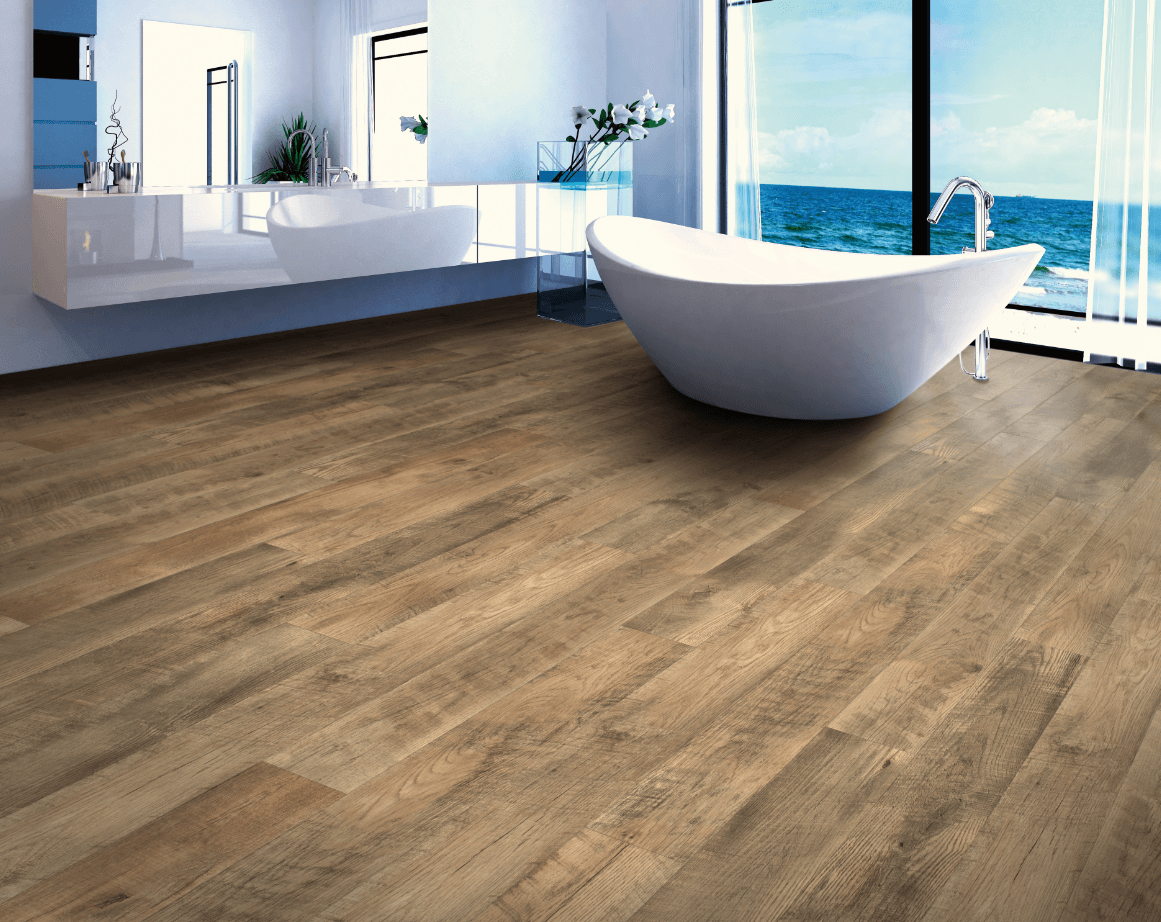 In flooring & home improvement, as in many industries, a common misconception is the need to sacrifice beauty for reliability, performance for low-budget.
With Mohawk's self-described revolutionary woods, RevWood & RevWood Plus, this is most certainly not the case! Designed by Mohawk to make homeowners, builders and designers rethink wood flooring altogether, RevWood is actually not what you may traditionally think of as wood.
The Benefits of Mohawk RevWood & RevWood Plus
So if it's not true wood, then just what is RevWood? Put simply, it's an eco-friendly product that combines the beauty of real wood with the durability of laminate flooring. Let's break down the benefits:
Waterproof installation means that, unlike 100% real hardwood, RevWood Plus can stand up to spills and humidity without buckling, warping, or being damaged in any way. Note that RevWood Plus is waterproof, but regular RevWood is not.
Resistance to stains, scratches & dents is built in to RevWood thanks to a durable wear layer and construction.
Mohawk's All Pet Protection & Warranty gives RevWood coverage against messes from any type of pet & pet-related accident, all the time.
RevWood comes in a variety of trending colors and textures, each with distinctive wood knot and grain patterns. These include time-worn looks and planks in varying lengths and widths.
RevWood & RevWood Plus are available at outstanding price points compared to their real wood competitors.
Finally, Mohawk manufactures RevWood & RevWood Plus right here in the USA!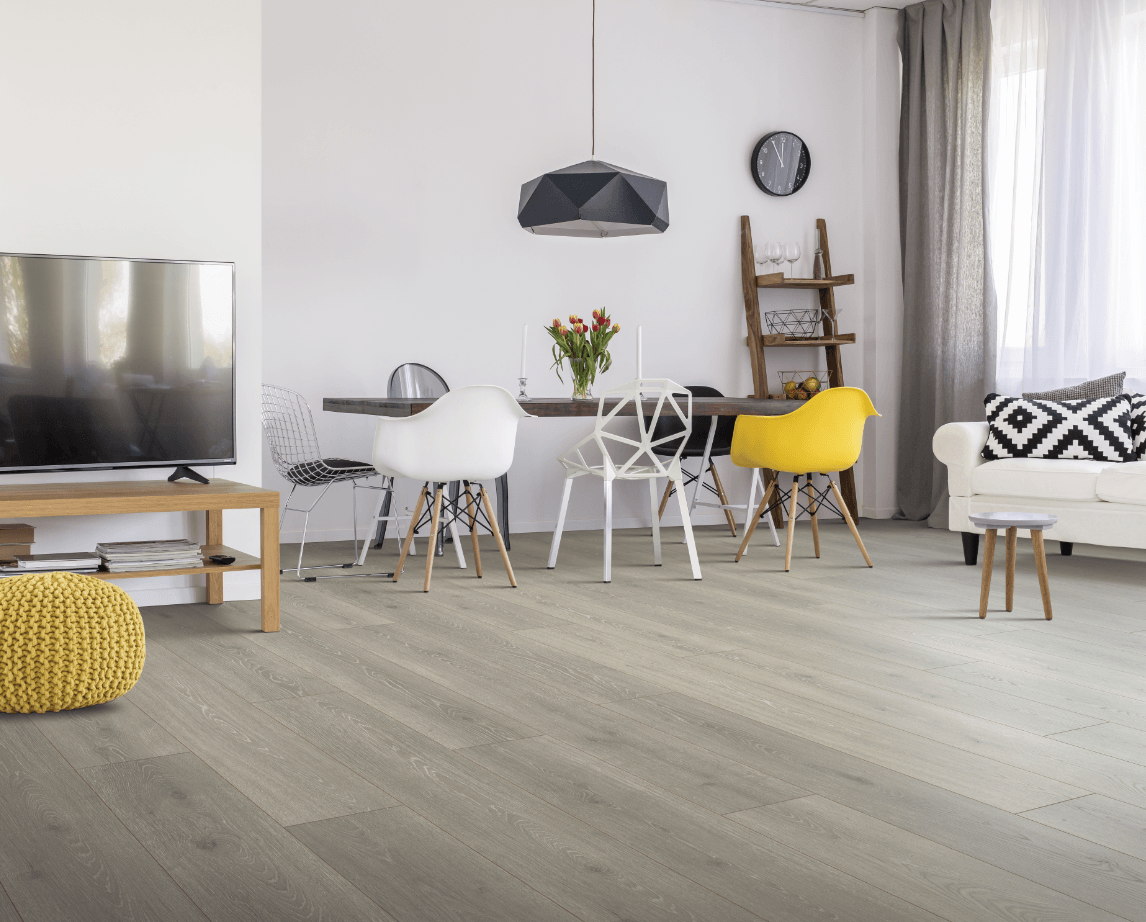 How does RevWood work?
So RevWood Plus is essentially waterproof wood – but how? It's the result of two main features – a click & lock tongue-and-groove installation with beveled edges and a water-repellant HydroSeal coating developed by Mohawk. The tightly-locking planks block moisture from entering through the sides, and the coating blocks it from the surface.
One final step – a perimeter sealing of 100% silicone – seals the deal on the cut edges of the floor.
This moisture-resistant surface also makes cleaning up a breeze. These are the first laminate floors on the market that can be safely wet-mopped without worry about peeling or damage to adhesives – because there are no adhesives required in installation!
How & where to use RevWood & RevWood Plus
RevWood is perfect for any part of your home where you wish you could have hardwood floors, but where it just doesn't make sense to do so. One of the key benefits of RevWood and RevWood Plus is that they can be installed on any level of your home, over nearly any type of existing subfloor.
Hardwood, being naturally porous and flexible, does not handle moisture and humidity well. In areas like bathrooms, kitchens, laundry rooms and even finished basements, it's best to avoid installing real wood.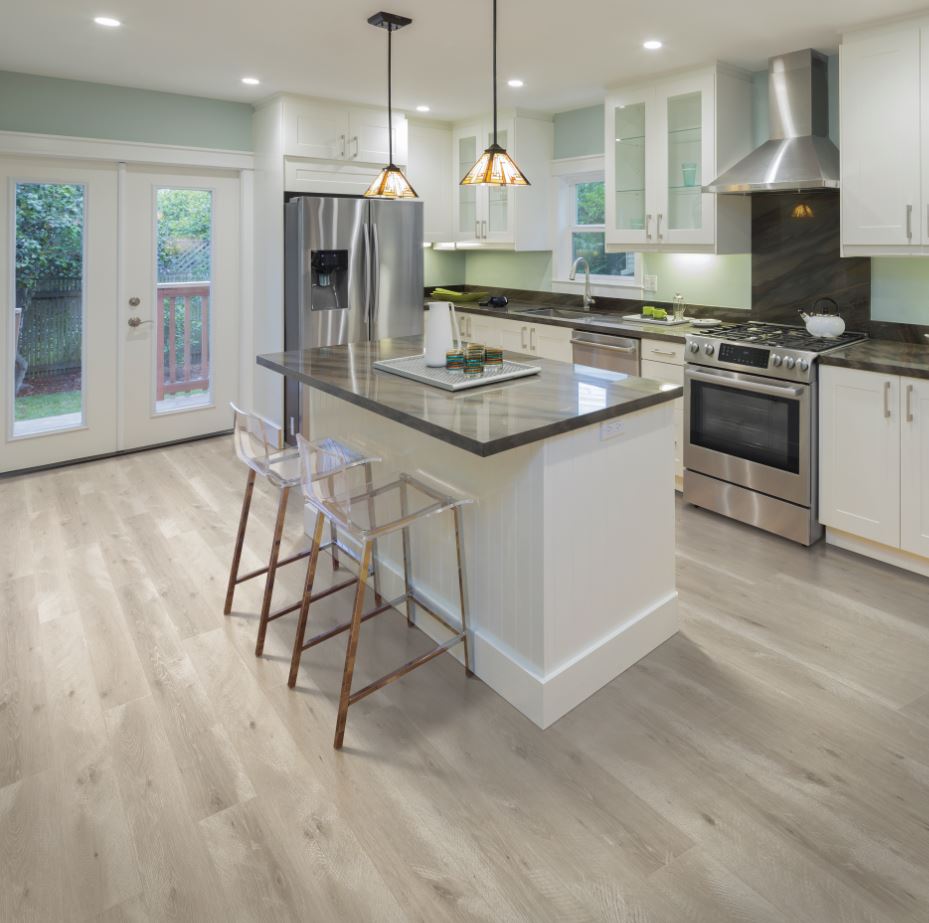 With RevWood, you get the look and feel of natural hardwood in a form that's suitable for all of these areas and more. With so many great looks and textures from which to choose, you'll find yourself with far more design freedom than you'd have with hardwood.
RevWood Plus vs. Vinyl Plank 
Both RevWood Plus and luxury vinyl plank flooring mimics the look of real hardwood flooring but are more affordable alternatives. Until recently luxury vinyl plank was one of the best flooring choices for rooms prone to moisture. But thanks to the latest technology, RevWood Plus is also waterproof, making it a great choice rooms such as the kitchen, bathroom, laundry room, or even a basement. Additionally, RevWood Plus is resistant to stains and scratches, and unlike vinyl, RevWood is resistant to dents. Another benefit is that RevWood Plus is a more eco-friendly choice than vinyl. 
Learn more about RevWood & RevWood Plus on our website, or at one of our 10 convenient locations in the greater Miami area!